Alpujarras casa de pueblo en ventar, tiene vistas panorámicas sobre el valle. La Casa de pueblo de dos plantas de 340 m2 de terreno. La cocina, baño, comedor y sala de estar se encuentran en la planta baja. Hay dos dormitorios en el segundo piso. Un pequeño jardín está situado en la parte frontal de esta casa.
Alpujarra Casa De Pueblo - Town House

Alpujarras town house for sale, having panoramic views over the valley. The town house has two floors on 340 m2 land. The kitchen, bathroom, dining room and living room are on the ground floor. There are to two bedrooms on the second floor. A small garden is situated at the front of this town house.

Solar urbano con 450 m2 con espléndidas vistas, orientación sur, muy cercano alayuntamiento y escuelas, pero a la vez tranquilo y retirado del ruido de la carretera.Con el solar se regalan tres parcelas rústicas para cultivo de hortalizas
Solar urbano - Urban building plot

Urban building plot for sale of 450 m2 / 539 square yards. Splendid views, south facing, close to the town hall and schools, yet quiet and withdrawn from road noise.

Casa de la aldea de la montaña de Alpujarra para la venta en una posición única, tiene vistas panorámicas sobre el valle y la aldea muy pintoresca. Debido a la salud, el dueño ahora ha decidido vender la casa después seis años. La renovación rudimentaria se ha hecho ya extensivamente. Puede ser transformada posiblemente en tres apartamentos cómodos del seperate o como una casa lujosa auténtica. La estructura total del edificio está en condiciones sanas. ¿Usted estaría buscando algo maravilloso?
Casa Alpujareño - Mountain Village House

Alpujarras mountain village house for sale on an unique position, having panoramic views over the valley and the very picturesque village. This property is sold by the owner who is a connoisseur in antiques and historical buildings. Due to health reasons the owner has now decided to sell the house after six years. Rudimentary renovation has already been done extensively. It may possibly be transformed into three seperate comfortable apartments or as one authentic luxurious mountain village house.

Finca agrícola con posibilidad de cultivo inmediato de hortalizas o cualquier cultivo, con certificados ecolígicos del CAAE. La finca tiene aproximadamente 11.000 metros cuadrados o 1.1 hectaria para cultivar. Dispone de una balsa con una capacidad aproximada de 700.000 litros.

Farm land for sale with the possibility of readily growing vegetables or any crop, and having all ASAC ecological certificates. The farm land has approximately 11,000 square metres or 2.7 acres to grow. It has a water basin with an approximate capacity of 700,000 liters or 17000 gallons.

Cortijo La Cara situado en el parque natural de Sierra Nevada, Las Alpujarras. La propiedad consisten en 0.8 hectareas de huerta de terraplenada. El agua doméstico es filtrado y clorado. El tiene electricidad y el teléfono. La casa tiene aproximadamente 300 m2 de espacio vital.
Cortijo La Cara is located inside the Sierra Nevada Natural Park, Las Alpujarras. The property has

0.8 hectares / 2 acres of terraced grounds. Water for domestic use is filtered, chlorinated and pumped to the house. There is electricity and land line telephone connection. The house has approximately 300 m2 / 3229 square yards of living space.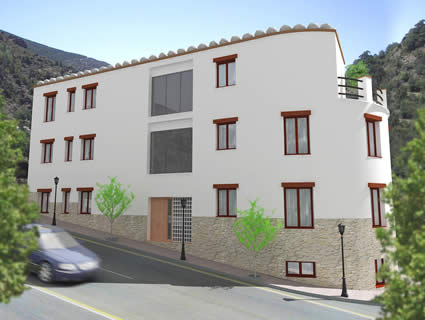 Balcones de Trevélez en el corazon de la Alpujarra granadina en un enclave privilegiado junto al Parque Natural de Sierra Nevada y a escasos metros del Rio Trevélez encontramos esta promocion de Lofts y Apartamentos donde la sencillez y el diseño se fusionan, apartamentos se vende.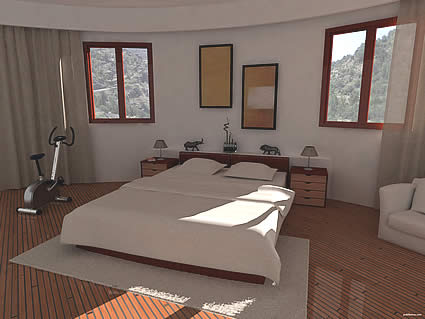 The balcony of Trevélez at the heart of the Alpujarra granadina in a privileged location right next to the Parque Natural of the Sierra Nevada mountain range and approximate to the the river of Trevélez and the centre of town, new apartments for sale.
Hotel y restaurante se ofrece habitaciones y apartamentos

independientes y un restaurante con bar. La decoración sigue las normas de la comarca, con cerámicas y mantas alpujarreñas. La situación es inmejorable, pues se encuentra en el corazón de uno de los Parques Naturales más bellos de Andalucía.
Hotel y restaurante - Hotel and Restaurant
The hotel and restaurant has guest rooms and independent apartments,
it has a large restaurant with a bar. It comes fully decorated in the rustic style of the Alpujarra valley. The location of the property is in the heart of one of the most beautiful Natural parks
of Andalusia.