ALPUJARRAS Inmobiliaria Real estate
CORTIJO EN VENTA EN EL VALLE DE ALPUJARRAS
FARMHOUSE WITH LAND FOR SALE IN THE ALPUJARRAS
El clima agradable - tranquilidad - la properiedad esta característica en una posición estratégica maravillosa, teniendo visiónes panorámicas sobre el valle de Las Alpujarras.
Pleasant climate - tranquility - this property is on a wonderful strategic position, having panoramic views over the Alpujarras valley.
Cortijo La Cara situado en el parque natural de Sierra Nevada, Las Alpujarras. La propiedad consisten en 0.8 hectareas de huerta de terraplenada. Tiene 4600 m2 de huerta de aceituna terraplenada. Hay 40 árboles de aceituna, 15 almendra y 10 árboles de naranja. Hay unos 400 m2 césped con irrigación automático.
Cortijo La Cara is located inside the Sierra Nevada Natural Park, Las Alpujarras. The property has 0.8 hectares / 2 acres of terraced grounds. Having 40 olive trees, 15 almond and 10 orange trees on 4600 m2 / 5502 square yards. There is a 400 m2 / 478 square yards lawn with automated irrigation.
La propiedad ha sido restaurada a un padrón alto en el estilo campesino usar materiales originales y guardando las características originales como un horno de pan interno y lugares de fuego. La calefacción es combustible sólido y calentadores eléctricos, el agua caliente usar gas. Hay derechos sobre el agua de irrigación compartir para 60,000 litros. El agua doméstico es filtrado y clorado. El tiene electricidad y el teléfono. La casa tiene aproximadamente 300 m2 de espacio vital constar de;
* 6 dormitorios de doble grandes con baños de ensuite (4 ducha y 2 con baño)
* viviente y cenar 65 m2
* cocina, totalmente utilizar
* dispensario de cocina
* sala grande
* servicios
* oficina
* 3 terrazas de 100 m2
* barra
* fuera de servicios para la barra
* cobertizo 60 m2
* Área de estacionamiento de 500 m2

The property has been restored in rustic style to high standard, using original materials and keeping original features such as an internal bread oven and fire places. Heating is by means of solid fuel burning stoves and electric heaters. Hot water is gas fired. Irrigation water rights for the house and shared storage contains 60,000 litres / 13,198 gallons. Water for domestic use is filtered, chlorinated and pumped to the house. There is electricity and land line telephone connection. The house has approximately 300 m2 / 3229 square yards of living space consisting of;
* 6 large double bedrooms all with en suite bathrooms (4 shower and 2 with a bath)
* living and dining accommodation 65 m2 / 700 square feet
* kitchen, completely utilized
* kitchen dispencary
* large living room
* toilets
* office room
* 3 large south facing terraces, together 100 m2 / 1076 square feet
* bar
* outside toilets for bar
* outbuilding 60 m2 / 646 square feet
* car park area of 500 m2 / 5382 square feet
La propiedad esta localizada bien para tiendas locales. La costa es a un hora de conducir. Granada ciudad es a dos horas conducir. El aeropuerto internacional de Málaga es a tres horas conducir de la propiedad.
The cortijo is well located to local shops. To the coast or the higher mountains are each merely an hours drive. The city of Granada is a two hours drive. Málaga international airport is a three hours drive from the property.
Vistas maravillosas desde 900 m. de altitud sobre el valle de La Alpujarra.
Marvelous views from 900 m. / 2953 feet high over the Alpujarra valley.
La propiedad se vende para 590.000 400,000 350,000 Euros
El precio es negociable
Para alquiler a largo plazo, 6 meses como mínimo - renovable.
Precio por mes: € 750,00 exclusivas gastos.
The property is for sale at 590.000 400,000 350,000 EurosConversion rate calculation
The selling price is negotiable.
For rent long term only, 6 months minimum - renewable. Price per month: € 750,00 exclusive bills.
E-mail: inmobiliaria real estate (Cara)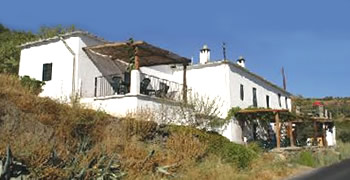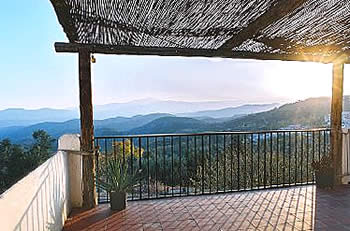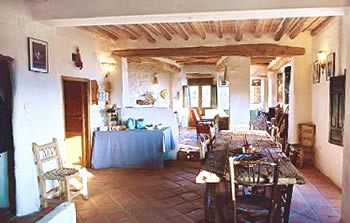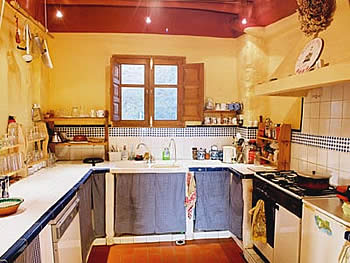 Email | Objetivo Ojective | PeticiSón Request | Disclaimers |
Alpujarras info tu página de inicio Make Alpujarras info your homepage
Copyright © 2003 ALPUJARRAS-INFO.NET Todos los derechos reservados All rights reserved