ALPUJARRAS Inmobiliaria Real estate
OFERTA - CASA SE VENDE EN EL VALLE DE LAS ALPUJARRAS
BARGAIN - MOUNTAIN VILLAGE HOUSE FOR SALE IN THE ALPUJARRAS VALLEY
Clima agradable - tranquilidad - aislamiento - localización exquisita en el valle de Alpujarras. La propiedad está en una posición única, tiene vistas panorámicas sobre el valle y la aldea pintoresca. Su localización no asegura ningún edificio obstructor cualesquiera en el futuro. El precio de venta es negociable.
Pleasant climate - tranquility - privacy - exquisite location in the Alpujarras valley. This property is on an unique position, having panoramic views over the valley and the very picturesque village. Its rare location secures no obstructive building whatsoever in the future. The selling price is negotiable.
La propiedad de la aldea es cerca de 380 m2. Esta y los edificios históricos. Debido a la salud razonó, el dueño ha decidido vender la casa después de seis años. La renovación rudimentaria se ha hecho ya extensivamente. La casa se puede transformar fácilmente en tres apartamentos cómodos del seperate o como una casa lujosa auténtica de la aldea de la montaña. Tiene un establo; una casa principal y un coral (patio) con colindar los cuartos grandes que se pueden hacer en viviendas maravillosas. La estructura total del edificio está en condiciones muy bien.
The property is about 380 m2. or 1246 square feet / 415 square yards. This house is sold by the owner, a connoisseur in antiques and historical buildings. Due to health reasons the owner has decided to sell the house after six years. Rudimentary renovation has already been done extensively. The house can easily be transformed into three seperate comfortable apartments or as one authentic luxurious mountain village house. It has a stable; a main house and a coral (patio) with adjoining large rooms which can be made into wonderful dwellings. The total structure of the building is in sound condition.
La casa en esta aldea pintoresca es situada bien a las tiendas locales en ciudades vecinas por el coche a partir de quince minutos a una mitad de las horas conduce. La costa o las montañas más altas están cada un media hora al conducir.
The house in this quaint village is well located to local shops in neighbouring towns by car from ample fifteen minutes to an half hours drive. To the coast or the higher mountains are each merely half an hours drive away. The nearest highway is about a fourty five minutes drive.
Vistas maravillosas desde 1065 m. de alto sobre el valle de La Alpujarra y la línea de la Costa del Sol.
Marvelous views from 1065 m. / 3493 feet high over the Alpujarra valley and Mediterranean Costa del Sol coastline.
El pueblo de la montaña de Alpujarra está en el parque natural del Sierra Nevada, bien conocido para su flora y fauna únicas.
The Alpujarra mountain village is in the natural park of the Sierra Nevada, well known for its unique flora and fauna.
El aeropuerto internacional de Málaga es a tres horas de conducir de la propiedad.
Málaga international airport is a three hours drive from the property.
La ciudad de Granada y de Almería son las ciudades más cercanas, una a dos horas de conducir en coche y tienen aeropuertos que mantiene vuelos internacionales sobre base estacional.
Granada and Almería city are the nearest cities, one to two hours drive by car. Both of these attractive provincial capitals have airports which services international flights on seasonal basis.
La propiedad se vende para 20.000 Euros
Precio de venta es inclusiva un hectaria tereno
The property is for sale at 20.000 Euros Conversion rate calculation
Selling price comes with two acres of land
Teléfono: (00 34) 958 760 177
E-mail: inmobiliaria real estate (casa aldea Alpujareño)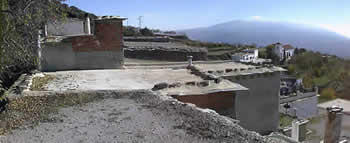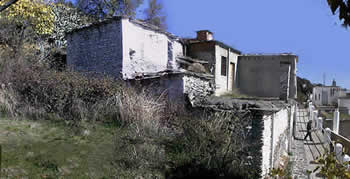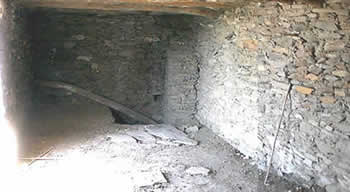 | Email | Objetivo Ojective | Petición Request | Disclaimers |
Alpujarras info tu página de inicio Make Alpujarras info your Homepage
Copyright © 2003 ALPUJARRAS INFO Todos los derechos reservados All rights reserved