Atraídos por la riqueza minera de Sierra Nevada (explotación de hierro, cobre, plata, oro y plomo) y gracias a su proximidad al mar, entraron a ella los fenicios, cartagineses y griegos, estableciendo estos últimos junto a los romanos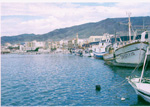 algunos poblados. Pero fue con la llegada de los árabes cuando se habitó la sierra, llegando a su máximo esplendor en los siglos 14° y 15°, donde desarrollaron un intrincado sistema de canalizaciones y acequias y un extenso comercio de seda y de esencias aromáticas que exportaban.
Attracted by the mining riches of the Sierra Nevada (iron, copper, silver, gold and lead) and the proximity to the sea, Phoenicians, Cartagineses Greek and the Romans populated the region. With the arrival of the Arabs the Alpujarras became more inhabited, reaching its maximum splendor in the 14th and 15th centuries. Intricate systems of canalizationes and ditches for a more sophisticated way of farming were developed and extensive commerce of silk and of aromatic essences were being exported.
Los moriscos, descontentos por el trato otorgado por los cristianos, protagonizaron varias revueltas, como la de 1.500. Durante la rebelión de las Alpujarras de 1.568, liderada por el morisco Aben Humeya, la Alpujarra almeriense sufrió crueles batallas, como la de Guarros (Paterna del Río), donde las tropas cristianas del Marqués de Mondéjar mataron a 4.000 moriscos. Cuando la mezquita de Laujar de Andarax, donde se escondían los moriscos, fue incendiada. Tras finalizar tan cruenta guerra, La Alpujarra sufrió la expulsión de los moriscos, siendo repoblada por cristianos. La recuperación de la comarca no llegaría hasta el siglo 19°, gracias a la minería y al cultivo de la llamada uva de Ohanes, destinada a la exportación. El paisaje de Las Alpujarras quedaba así sembrado de parrales y frutales, recordando la floreciente agricultura que hizo famosos a sus pueblos bajo los designios del Islam.
The Arabs, displeased by the treatment granted by the Christians, carried out several revolts, like the one of 1500. During the rebellion of the Alpujarras of 1568, led by Aben Humeya, Alpujarra almeriense underwent cruel battles, like Guarros (Paterna del Río), where Christian troops of the Marquess de Mondéjar killed 4,000 Moors. The mosque of Laujar de Andarax, where the Moors hid, was set afire. After the war, the Arabs were expelled out of the Alpujarras and were being repopulated by Christians. Economic recovery in the region did not come about until the 19th century thanks to mining and the cultivation of the Ohanes grape, becoming a major export product. The landscape of Alpujarra almeriense was left to the cultivation of grapes and fruit trees, remembering the flourishing agriculture that made the towns famous during the era of the Islam.